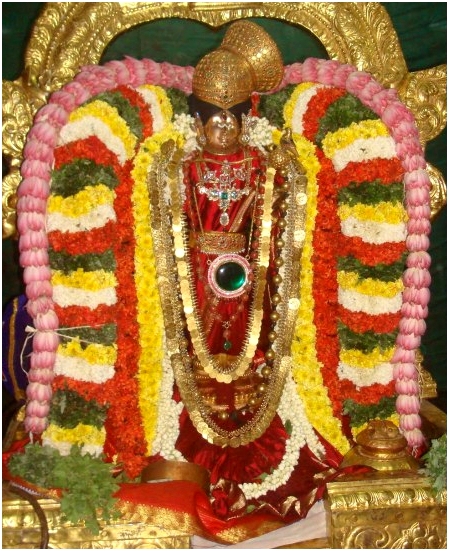 Today, December 26, 2016 is Day 11 of Margazhi masam. The eleventh pasuram of Thiruppavai, Kattru Karavai Kanangal, is to be recited today.
Margazhi month assumes special significance for Srivaishnavas. Lord Krishna in Bhagavad Gita says masanam margashirso aham (of months, I am Margazhi). Of the 12 sub-Vyuhas which are representative of the 12 months beginning from the Tamil month of Margazhi, Kesava is the lord for the month of Margazhi.
Most importantly, the month derives its auspiciousness primarily due to its association with ThiruppAvai. It was during Margazhi that Sri Andal observed the pious Pavai Nombu for Sriman Narayanan and composed the 30 pasurams of Thiruppavai for  the ujjeevanam (upliftment) of jeevatmas like us. Thiruppavai is very sacred and all our Acharyas have given commentaries on this prabhandam. The very fact that Swami Ramanuja was called 'ThiruppAvai Jeeyar' because of his deep attachment to this, illustrates the special place Thiruppavai had with Swami Ramanuja. In this Dhurmuki Varusham, the Margazhi month began on December 16, 2016.
For the benefit of Anudinam readers, we bring detailed Tamil commentary, musical recitation and detailed upanyasam audio by various vidwans (scholars) for each pasuram. It may be noted that the audio files are also available at www.sravanam.org
The following is an article about the eleventh pasuram (Kattru Karavai Kanangal)…
In this pasuram a girl who is immersed in Krishna-bhakthi is woken up. She is addressed as belonging to the family of cowherds who are always engaged in milking and taking care of cows but if attacked by enemies they are excellent warriors. Addressing her as delicate as a creeper, they ask why she is hiding inside the ant-hill like a cobra? They ask her to come and join them to sing about The One who has the hue of rain-bearing clouds, and dance like a peacock with its feathers spread out. They ask her to wake up, shake off her sleep and join them .They urge her not to be without stirring or speaking.
கற்றுக் கறவைக், கணங்கள் பலகறன்து*
செற்றர் திறல் அழியச் சென்று செருச் செய்யும்*
குற்றம் ஒன்றில்லாத கோவலர் தம் பொற்கொடியே!*
புற்றரவல்குல் புனமயிலே போதராய்!**
சுற்றத்துத் தோழிமார், எல்லாரும் வந்து* நின்
முற்றம் புகுந்து முகில் வண்ணன் பேர் பாட*
சிற்றாதே பேசாதே செல்வப் பெண்டாட்டி!* நீ
எற்றுக்கு உறங்கும் பொருளேலோரெம்பாவாய் (௧௧)
kaRRuk kaRavaik, kaNangkaL palakaRandu*
SeRRar tiRal azhiyach SenRu Seruch SeyyuM*
kuRRam onRillaada kOvalar tam poRkoDiyE!*
puRRaravalgul punamayilE pOdaraay!**
SuRRattut tOzhimaar, ellaarum vandu* nin
muRRam pugundu mugil vaNNan pEr paaDa*
SiRRaadE pESaadE Selvap peNDaaTTi!* nI
eRRukku uRangkum poruLElOrempaavaay (11)
కఱ్ఱుక్ కఱవైక్, కణఙ్కళ్ పలకఱన్దు*
శెఱ్ఱర్ తిఱల్ అళియచ్ శెన్ఱు శెరుచ్ శెయ్యుం*
కుఱ్ఱం ఒన్ఱిల్లాద కోవలర్ తం పొఱ్కొడియే!*
పుఱ్ఱరవల్గుల్ పునమయిలే పోదరాయ్!**
శుఱ్ఱత్తుత్ తోళిమార్, ఎల్లారుం వందు* నిన్
ముఱ్ఱం పుగుందు ముగిల్ వణ్ణన్ పేర్ పాడ*
శిఱ్ఱాదే పేశాదే శెల్వప్ పెణ్డాట్టి!* నీ
ఎఱ్ఱుక్కు ఉఱఙ్కుమ్ పొరుళేలోరెమ్పావాయ్ (౧౧)
ಕಱ್ಱುಕ್ ಕಱವೈಕ್, ಕಣಙ್ಕಳ್ ಪಲಕಱನ್ದು*
ಶೆಱ್ಱರ್ ತಿಱಲ್ ಅಳಿಯಚ್ ಶೆನ್ಱು ಶೆರುಚ್ ಶೆಯ್ಯುಂ*
ಕುಱ್ಱಂ ಒನ್ಱಿಲ್ಲಾದ ಕೋವಲರ್ ತಂ ಪೊಱ್ಕೊಡಿಯೇ!*
ಪುಱ್ಱರವಲ್ಗುಲ್ ಪುನಮಯಿಲೇ ಪೋದರಾಯ್!**
ಶುಱ್ಱತ್ತುತ್ ತೋಳಿಮಾರ್, ಎಲ್ಲಾರುಂ ವಂದು* ನಿನ್
ಮುಱ್ಱಂ ಪುಗುಂದು ಮುಗಿಲ್ ವಣ್ಣನ್ ಪೇರ್ ಪಾಡ*
ಶಿಱ್ಱಾದೇ ಪೇಶಾದೇ ಶೆಲ್ವಪ್ ಪೆಣ್ಡಾಟ್ಟಿ!* ನೀ
ಎಱ್ಱುಕ್ಕು ಉಱಙ್ಕುಮ್ ಪೊರುಳೇಲೋರೆಮ್ಪಾವಾಯ್ (೧೧)
Thiruppavai Pasuram 11 Musical/Recitation
Thiruppavai Pasuram 11 Upanyasams
Tamil Upanyasams
HH 45th Srimath Azhagiyasingar

HH Thirukkudanthai Andavan


Sri U.Ve. Madhavachar

Oragadam Sri U.­Ve. Lakshmi Nar­asimhachariar

Sri U.Ve. Velukkudi Krishnan

Sri U.Ve. Kuruchi Narayanan
Sri U.Ve. M.V. Ananthapadmanabhachar

Sri U.Ve.M.A Venkatakrishnan

Sri U.Ve. P.B. Annangarachariar



Sri U.Ve. K.B. Devarajan

Sri U.Ve. E.S.Boovarahachar

Telugu Upanyasams
Sri U.Ve. Aachi Srinivasacharya

Sri U.Ve. Sribashyam Appalacharya

Sri U.Ve. Santhana Gopalacharya