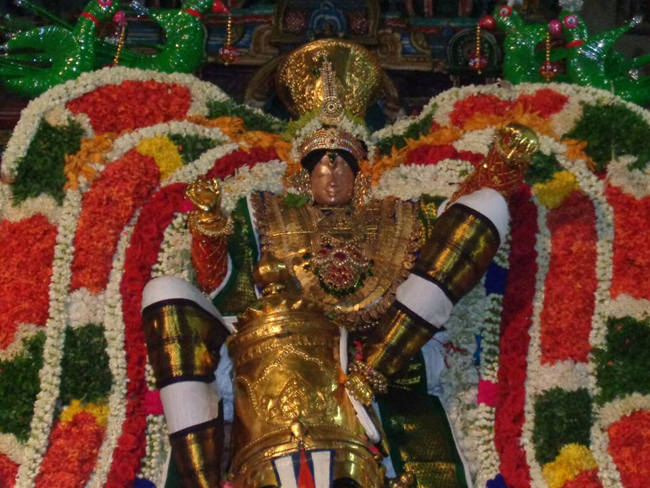 As part of the Ongoing Panguni Brahmotsavam at Mannargudi  Sri Rajagopalaswami Temple, On 28th March 2017, Dhurmuki Varusha Panguni Utthiratathi is the day12 of Mannargudi Rajagopalaswamy Panguni Brahmotsvam, in the Morning Perumal purappadu started at at 8.00 am on silver Pallaku., took place in the temple streets of Mannargudi. Prabhanda Goshti started at around 9.30 am with Sri Sadagopam Garlanded to Sri Udayavar and then to all the gosthiyars. After that Perumal Thiruveedhi Ula on 4 Pragarams Called "GOPALA SAMUTHIRAM" South Street, West Street, North Street and then East Street.   In this 4 Pragarams all the Bakthas in his house to perform pooja with Prasadam, aarathi in each and every house. Along with Perumal Veda Prabanda goshti, Rig Vedha Koshti and Sama Veda Koshti are performed in all the 4 Veedhees. The East Street Near Theradi the Divya Prabanda goshti Sathumurai is performed. After that Sri Perumal Temple Ezhunbdarulal at Vanamalai Madam "Thiruvanthikappu" Kandarulal. Then at around 12.00 noon Special Thirumanjanam was performed at Kannadiarai, Theerthaprasadam Viniyogam to Goshtiyars and all Sevarthigals.
At around 10.00 pm Sri Perumal Purappadu in 'Thanga Garuda Sevai in "Vaigunda Nathan Sevai" . At Rajagopuram "Theeparathanai" Kandarulal. At Theradi at around 10.30 pm "Irattai Kudai Sevai Kandarulal. At 10.45 pm a Special Nadaswara Innisai Katcheri is performed. A Special Vanavedikai is also performed during Purappadu. Then at around 12.00 pm Sri Gopalan "Garuda Vahana Mandapam" Ezhundarulal ( at around 6 kms from Temple) Via Mela Rajaveedhi with Irrattaikudai Sevai. At Garudavahana Mandapam a Special Thiruvaradhanam is performed and Theerthaprasadam Viniyogam to Ghosthiyars and all other Sevarthigal.
At around 1.00 am (next day 29.03.2017) Sri Gopalan with Garudasevai " GARUDASEVAI CHAPPARM" Ezhundarulal. All the sevarthigal are pull the Chapparam from Garuda Vahana Mandapam via Panthaladi, Mela Rajaveedhi. At around 2.30 am (29.03.2017) At Theradi Vedaparayanam and Sri Arulicheyal Goshti  started with Sri Sadagopam Garlanded to the Goshtiyars. After that the Garudasevai Chapparam had pulled all the Gopalasamudram Mada Veedhi. At around 6.30 am Sri Gopalan Ezhundarulal from Garuda Sevai Chapparam and then go to Temple. At Vanamamalai Madam "Thiruvanthikappu" Kandarulal. then  Sri Gopalan "Palliyarai" Ezhundarulal at 7.30 am.
The following are some of the photos taken during the occasion…
Courtesy :   Sri Vicky & Sri  Anagha Anukampa