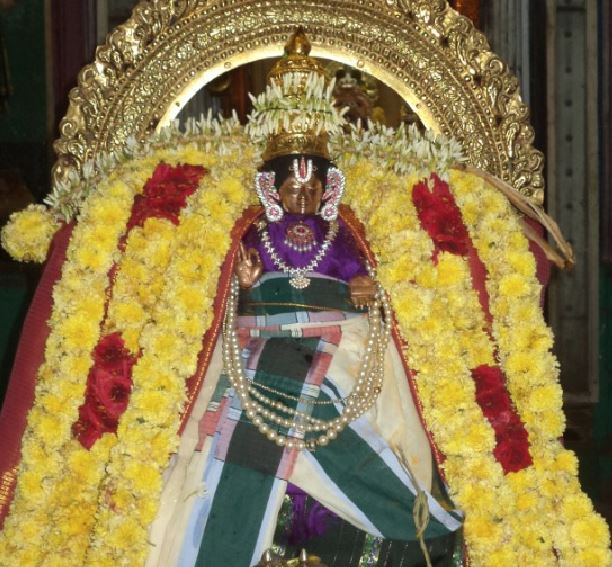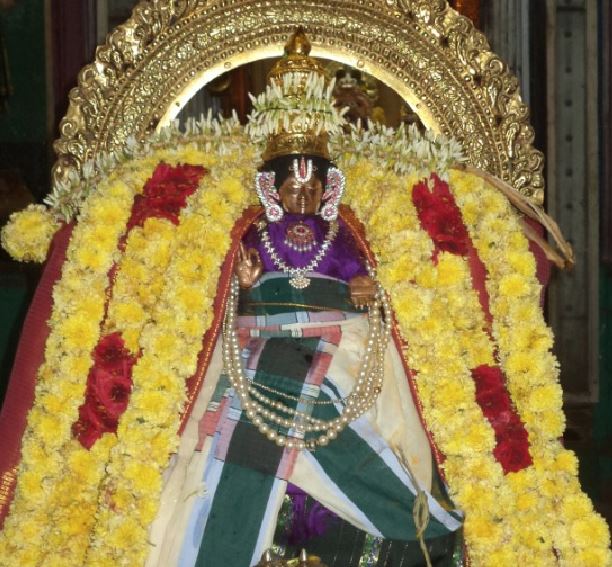 When we think about Nagapattinam only Nagai Azhagiyar will come to our mind. But couple of other Sri Vaishanava temples are situated in and around this Divya Desam. Sri Lakshmi Narasimhan Sannidhi  is one which is situated at Sri Soundararaja Perumal East Maada Veethi. Astikas of this Divya Desam call this temple as 'Sri Desikar Koil'. This Sannidhi was established in the year 1877 by HH Sri Sadagopa Yathindra Mahadesikan, the 33rd Jeeyar of Sri Ahobila Mutt. The prathishtapanam of the present vigraham of Sri Lakshmi Narasimhan was done by Him and the first Samprokshanam was conducted in His august presence. Subsequently, Samprokshanams were performed in 1963 and 1986; besides the centenary celebration of the temple in 1977. The temple has separate Sannidhi for Sri Chakrathazhwar and Sri Anjaneyar. The devotees of this temple has constituted a Kainkarya Sabha long ago and is conducting the annual festivals of Sri Nigamantha Mahadesikan and Sri Lakshmi Narasimhan in Purattasi and Vaikasi respectively.
The Members participate in regular meetings to review up keep of the functioning of the Sannidhi. The Corpus fund to this end has been created and proceeds from the fund are utilized for the expenditure incurred daily for rituals, salary for the Archakar, Payment of electric bills and other sundry expenses.
The Utsava Moorthy of Swami Desikan here looks like Thiruvahindrapuram Desikan and Thirunakshtram of Swami Desikan is celebrated for ten days with much fervor. During this utsavam, veedhi purappadu of Swami Desikan takes place on different Vahanam amid  Veda paarayanam  and Prabanda Ghoshti. The Kainkarya Sabha also arranges for Thatheeyaradanam.
Munificent contribution from esteemed devotees have been helpful to meet the expenses during the festival and with whose support very recently they have also constructed a hall with all facilities for accommodation for pundits and vedaparayanam in the open terraced expenses during the festival times.
For astikas who wish to contribute to this utsavam could draw Cheques, Drafts, M.O.S in favour of Sri Vednatha Desikar Sabha and send to 'The Secretary, 41, Perumal North Street, Nagapattinam – 611001′ Phone: 04365 221022. Contributions may also be sent directly to Nagapattinam Branch City Union Bank, SB A/c. No.170772 followed by intimation to the Sabha.
Courtesy: Nagai Venkatesan