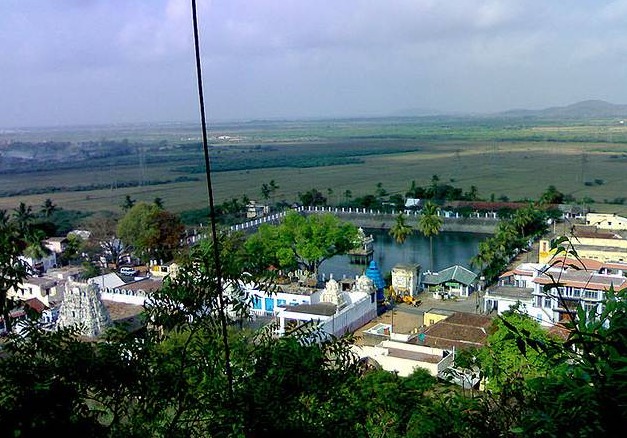 Here is a writeup of Stalapuranam about Thiruneermalai, one among the 108 Divya Desams, written by Sri U.Ve.Vidwan Melma Nrusimha Tattachar Swami
Giving Thiruneermalai a special status, Thirumangai compares it with Naraiyur, Thiruvali, Thiru Kudanthai and Thiru Kovilur and reveals that one can see the Lord of all these four temples at Thiruneermalai. In his reference to Thiru Naraiyur, Thirumangai talks about the standing Lord residing amidst groves in the well watered town. He refers to Kudanthai as the Lord in a sleeping posture, to Thiruvali, where the Lord is seen sitting and to Thiru Kovilur as the one in a standing posture. In conclusion Thirumangai says that on the hills of Thiruneermalai, one can find him in all these four postures and hence it is sacred to visit this place.
"அன்ராயர் குலகொடியோடு மணிமா மலர் மங்கையுடன் பலவி
அவுணருக்கு என்றானுமிறக்கும் ….. இரும்பொழில் சூழ்
நன்றாய புனல்
நறையூர் , திருவாலி குடந்தை தடந்திகல் கோவல் நகர் நின்றான் இருந்தான் கிடந்தான் நடந்தார் கிடம்
மாமலை யாவது நீர் மலையே " – Periya Thiru Mozhi
The 2000 year old Divya Desam praised by ThiruMangai Azhvaar and BhoothathAzhvaar is on the outskirts of Madras, about 5 kms West of Pallavaram. At Thiru Neermalai, one finds Lord Vishnu in four forms – Sitting, Sleeping and Walking posture atop the hill and Standing posture in the temple at the foot of the hill. Thiru Mangai Azhvaar came here to sing praise of the Lord but heavy rains flooded the place and he could not reach this temple. Having come this far, he decided to wait till the rains stopped. It proved to be a long wait of 6 months before Thiru Mangai could meet his Lord. The hill on which he stayed during these 6 months still exists and is called ThiruMangai Azhvaar Puram. This is the only Divya Desam where Thiru Mangai waited this long to meet the Lord. One has seen in the stories relating to a few of the other Divya Desams where Thiru Mangai has left/threatened to leave without waiting for the Lord.
The Utsavar deity of Ranganatha is seen at the Neer Vannan temple at the foot of the hill. Only thrice a year- on the first and last day of Brahmotsavam festival and on the Panguni Uthiram day- is he taken up the hill to be alongside the Moolavar Lord Ranganatha. This place is called Madhya Rangam and Lord Ranganatha is seen in Bhoga Sayanam.
Darshan as Raama to Valmiki
Having offered his prayers to the three Lords atop the hill, Valmiki is said to have missed the presence of Lord Raama at this place and is said to have undertaken penance thinking of Lord Raama.. Ranganatha is said to have appeared before him as Raama, Lakshmi as Sita and Adhiseshan as Lakshmana at this place. Thirumangai Azhvaar praises the Lord of Thiruneermalai as one who is seen Standing, Sitting, Sleeping and even Walking. He also refers to four other Divya Desams -Thiru Kovilur, Thiruvali, Naachiyar Koil and Thiru Kudanthai while showering his praise on Thiru Neermalai. Among the Divya Desams, this is the first Thaayar (Goddess) – Mani Maa Malar- that Thiru Mangai has praised with his paasurams. BhoothathAzhvaar in his only paasuram compares this temple to Srirangam and Tirupathi.
One of the two oldest 'hill' Divya Desams
During Dwapara Yugam, there were only two Divya Desams that were on hills. One was Ahobilam and the other was Thiruneermalai.
It is believed that Lord Narasimha gave darshan to Arjuna after he performed the Ashwamedha Yaagam here at this place. Only Divya Desams where Lord Narasimha is seen in a cool posture – called 'Shaanta Narasimhar'.
Prarthana SthalamThis is a prarthana sthalam and the Lord is said to answer prayers relating to different issues, especially marriage.
One of the 8 Mukthi Sthalams
Thiru Neermalai is said to be one of the 8 Mukthi Sthalams, others being Srirangam, Tirupathi, Saaligram, Naimisaarinyam, Sri Mushnam, Pushkaram and Naarayanpuram.
Quick Facts
Deity: Neer Vannan ( at the foot of the hill) standing posture facing East
Deities atop the hill: Ranganatha in Bhoga Sayanam, Shaantha Narasimha in Sitting posture and Trivikrama in Walking posture
Goddess: Mani Malar Mangai Thaayar
Temple Time : 8am-12noon and 4pm-8pm
How to reach
One can take bus 55A from Pallavaram Bus Stand to reach the temple