Azagiya Nachiyar Thirukolam
One of the most special days in Sri Rangam's history is the famed Mohini Alankaram of our Azhagiya Manavalan. We start our discourse of today's topic with a very brief history of the Mohini Alankaram. The Asuras and the Devas were churning for Amrutham(the Nectar of Life), and it was starting to appear as if the Devas were loosing to the Asuras. Hence, Sri Maha Vishnu, took on the form of a BEAUTIFUL woman, to distract and divert the attention of the Asuras in order to obtain the Amrutham for the Devas. After doing so, the Devas won the battle, and supposedly, corruption ended.
Now coming to the day's happenings at Thiruvarangam, and our Azhagiya Manavalan's magnificence. Starting with His hair, like that of a young woman, His hair flows like a braided river, with Raakudi, Jada Nagam, Pushpa Thanda, Kunjalam, and of course plenty of dazzling flowers!! In the front of our Azhagiya Manavalan's hair-do, there is Chandran and Suryan encrusted with diamonds are placed, Nethi Chutti, Kalinga Thora(which was only worn by the great Maha Ranis), the ever present Kasthuri and Thiruman Kappu, Jimikis swaying from His ears, and a beautiful nose ring. His Thirumugamandalam(face), is simply stunning, and hypnotic to keep looking at!
His lips, red as a rose, wet with moisture, a Dhristi pottu to ward off the evil eye! His neck is embraced by a beautiful Vaira Adihai(Diamond Singlet) which is encrusted with a large diamond single pendant, hanging down from this is a beautiful emerald pendant which sways with the wind and His movements. Our Azhagiya Manavalan is covered with rare stones, navaratnas, and gems and diamonds in step-wise manner. A long coral necklace with abundant punyam hangs on His chest!!
On His right hand, a parrot made out of rubies with a green(emerald) nose! This parrot, actually played a big role as his messenger and his confidant! Our Azhagiya Manvalan likes questioning his bird,"Am I beautiful?!" The parrot responds, "Of course you are!" The parrot is also his messenger, as it is this very parrot that talks to Sri Rangan and informs him of those who come to see him. "Antharangama Rangan kita pesum" This is a beautiful saying in Tamil, "The parrot talks secretly to Sri Rangan!" On Naam Perumaal's Left Hand, there are numerous gem encrusted bangles, kanganam, vangi for his upper arms, and for the dhrishti Parthika Thayathu(made out of pure gold, the Thayathu is a ward, or a lucky charm once again to ward off the evil eye from this beautiful stunning woman)! His fingers, are like that of a newborn baby, soft and supple adorned with beautiful rings. His Left Hand's fingers all point to His Thiruvadi(Feet)—–"Maam yekam charanam vraja" "Surrender to me, I will be with you!"
Our Azhagiya Manavalan's waist is delicate and small like a young girl's, it is encircled by a gold circlet with different leaf pendants(tulsi, etc.) His Thiruvadi(Feet) are soft, and smooth like a newborn's. His Thiruvadi, is decorated with Nalangu(Saffron lines on the feet), since His delicate, flowery, feet touched this earth, they turned red!!! Our Azhagiya Manavalan's feet are also covered with a pure gold anklet,and a thandai (a lotus like decoration in bloom)
The description of Azhagiya Manavalan's beauty on this special day is endless, and there is not enough words or space in this world to record all it, so we will move on. With all of these dressings and decorations, Azhagiya Manavalan walks seductively, not Oyyara Nadai, this is Anna Nadai, like that of a graceful bird. As Azhagiya Manavalan is gliding along like a swan, Parasara Bhattar comes to pray to Him. Our Azhagiya Manavalan filled with his vanity, asks Parasara Bhattar, "How do I look?
Parasara Bhattar replied, "Swami, you look like a lovely young lady, and your dressings put everyone else to shame, but………please forgive me my Lord, but the kindness evident in Sri Ranga Nachiyar's eyes are missing in your eyes!" Our Azhagiya Manavalan knew this to be truth.
It is truth, because, no matter how stunning and how mesmerizing our Azhagiya Manvalan might be to look at, he is still the King of Kings underneath it all, and this awesome power can not be contained by His Eyes. Sri Ranga Nachiar is a divine Lotus to mankind, and Her eyes are most Merciful! To look at Her eyes is to look at Heaven, and forgiveness and understanding…..basically the eyes of the Mother!!
அன்று தேவர்கள் உய்ய, இன்று இந்த மண்ணுலகம் உய்ய, மண்ணுலகில் உள்ள மனுசர்கள் உய்ய எடுத்த திருக்கோலம்..! இராவணன் இராமனாக வேடம் தரித்த போது அவனது குணமே மாறியதாம்..! இன்று நம்பெருமாள் தாயாராக மாறிய போது நம் மீது தாயுள்ளம் கொள்ள மாட்டானோ..! நம் மீது கருணை எனும் பாலினைச் சொரிந்து நம்மை ஆட்கொள்ள மாட்டானோ..!
Vaikunta Ekadeshi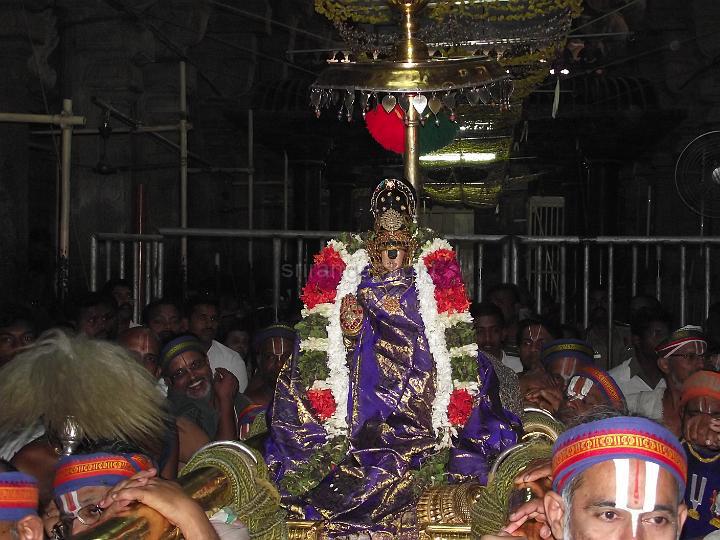 Thousands of devotees worshipped Namperumal at Srirangam Sri Ranganathaswamy temple on the occasion of 'Vaikunta Ekadasi' festival today.
On this day, our Azhagiya Manavalan wears a Rathnangi(A suit made out of pure Rubies). There is a speciality about the Rathnangi on the Sri Vatsham(The special place designated for Sri Ranganayaki on His Right Chest). To be able to note this specialty is in itself a blessing, because one must look closely to identify it, and I've had the blessing to see this! There is Maha Lakshmi INSIDE one of the many ruby stones! After Namperumal, exited the 'Paramapada Vasal,' amidst thousands of devotees.
Following Vaikunta Ekadesi, Periya Perumal Sri Ranganathaswamy will be adorned in 'Muthangi' (coat of pearls).
After customary honours for the Srirangam Jeer and the 'stalasthars,' our Nam Perumal makes His through the RajaMahendran Chutru, Kulasekaran Chutru before reaching the Vraja Nadhi mandapam where 'Veda parayanam' was recited. One of the million aspects that make Sri Rangam Booloka Vaikundam(Heaven on Earth) is this Vraja Nadhi Mandapam. Vraja symbolises open and pure, Nadhi means River. When one puts the ear to the ground at this Vraja Nadhi Mandapam, one can hear the splashing of the waters of Cauvery river! This is a Deva Loka Mandapam(Heavenly Mandapam). It is through this Mandapam that Our Nam Perumal takes everyone throught the Sorga Vasal.
The rituals at the Vraja Nadhi mandapam was completed at about 4.45 a.m. and the 'Paramapada Vasal' was thrown open, allowing the procession to emerge through it. 'Namperumal' then reached the Thirumamani(Aayariam Kaal, or 1000 Pillars Mandapam), Asthana Mandapam, where "Arayar Sevai" was performed. All twelve Azhwars, will be at the Aayiram Kaal Mandapam where they will perform Mangala Sasanam. This festival is called "Raa Paathu." This Raa Paathu goes on for 10 consecutive nights with our Azhagiya Manavalan in different alankarams(dressings) each day. After each day of Utsav, the way everything winds down is very peaceful and beautiful. In the cool evening hours of a Sri Rangam winter, our Azhagiya Manavalan, covered in his head by a Korra(A Musalin cloth, a transparent, fine, silk-like cloth) for warmth, makes His way to the Moolasthanam while in Veena Ekantham. This Veena Ekantham is, melodious, soft evening time Veena Music, which accompanies our Azhagiya Manavalan's Oyyara Nadai back to the Moolasthanam…..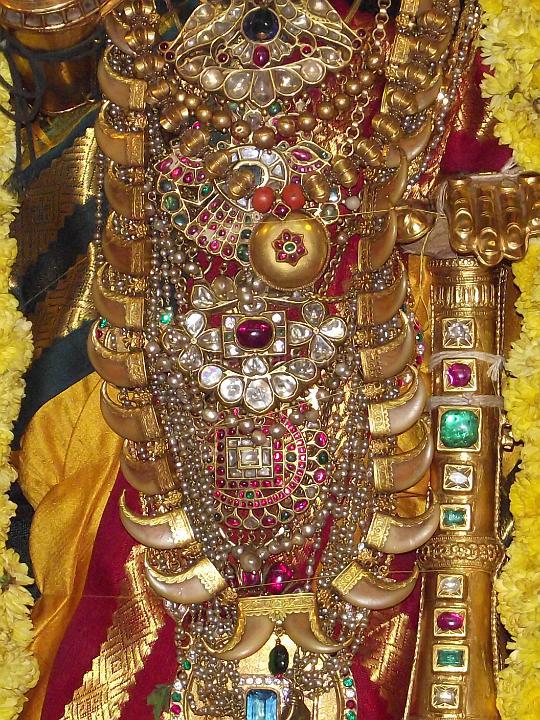 The Second Day of Vaikunta Ekadesi (Raa-Paathu; also called Thiru Vai Mozhi Thirunaal)
Around 12 pm in the afternoon, our Azhagiya Manavalan departs from his Moolasthanam (Inner Sanctum) striding his fierce Simha Gathi (His Lion like style of walking) through the Second Praharam (Raja Mahendran ChUtru) to the Third Praharam (Kulasekharan Chutru). The Praharams are named after the Kings who built them, the Vrajanadhi Mandapam is located in this Third Praharam. Of interesting note about this Vrajanadhi Mandapam, if one places their ear against the pillars, the sound of rushing water is supposed to be heard!
When our Lord Ranganathan approaches this Vrajanadhi Mandapam, his gait shifts from the Lion-like stride to the Oyarra Nadai. The Oyarra Nadai is the majestic swinging like walking that only befits the King of Kings! As he walks, our eyes are dazzled by the fire from the torches and lamps glitter on his many magnificent jewels and our Azhagiya Manavalan certainly hypnotizes us with his walk! They say, "Sri Rangam Nadai Azhagu, Kancheepuram Kodai Azhagu, Thirupathi Vadai Azhagu, Mel Kotai Mudi Azhagu, and Azhagar Malai Dosai Azhagu!" These five things are certainly one must experience in life!
At the Vrajanadhi Mandapam, Lord Rangantha is chanted the different Vedas and Ekaayenna Sagai, Sukhla Yejur Vedam chanted by the Archagas only. After this, the Theertha Goshti is done, after which He makes His way to the Sorga Vasal. Through the Sorga Vasal, and the Fourth Praharam our Azhagiya Manavalan reaches Ayaram Kaal Mandapam. There, the Patti Olathurathu happens. He is overcome with joy on seeing the wide open sands of the Ayaram Kaal Mandapam that He runs around gleefully like a child! He reaches the Thiru MaaMani Mandapam at 3 pm located in the center of the Ayaram Kaal Mandapam. There the Arayar's Pasuram/Abhinayam is performed.
At 9 pm, he departs from there and heads to his Moolasthanam accompanied by the melodious Veena Ekantham….the soft thrumming of the Veena accompanis our Azhagiya Manavalan after a long day as he retires to his Sanctum Santorum. As each note of the Veena reaches higher and higher, so too does our Azhagiya Manavalan ascend the stairs and heads inside.
Source: Write-up from Narasimha Bhattar