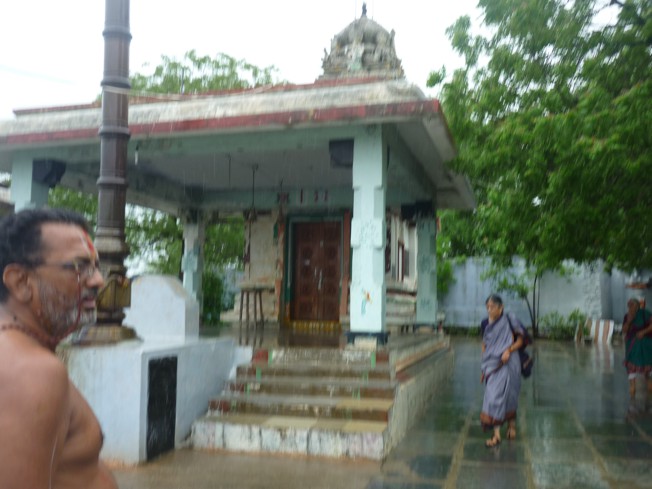 This travelogue is about Pancha Narashima Kshetrams in Andhra Pradesh. Its highly significant to visit these five Narasimha temples. The Pancha Narashima Kshetram are: Vadapalli, Mattapalli, Kethavaram, Vedadri and Mangalagiri.
For previous parts of this travelogue, please visit the following links:
Contd…
We had no choice but to take the road. After along ride we reached Vadapalli temple. We made kolams and did pradakshinams while Kishore went to call the priest. After reciting Nayakanai ninra and taking permission from Jaya/Vijaya we enter to find Lakshmi Narasimha swami and thayar in the same sanctum.
There are two lamps, one near perumal's nostril which kept flickering periodically while the one below was still. The priest spoke only Telugu and we understood that the deepam was akhandam and he wanted a contribution. The Telugu family who were with us translated the sthala puranam to us. Agastya muni carried vigrahas of Shiva and Kesava for prathishtai. Narasimhadeva wanted to stay at Vadapalli near the confluence of Krishna and Musi rivers. We could not go there because of the rains. With time the temple got covered by ant hills and was restored by Reddy kings in the 12th century.  We see Garudazhwar near the Dwajhasthambam and set out for our next destination Kethavaram.
The road to Kethavaram was not easy. We passed a place called Bellamkunda and had to go across a railway crossing when we were stopped by a policeman. The driver opened  the window for him He looked  at us he let us proceed. We waited for the other group to get clearance before proceeding. The road is muddy (kutcha) and driving is a challenge.
We could see only thorny bushes and no sign of people till we reach the temple after a 5 km drive. Because of the rain we could not take the 650 steps up to the actual temple. We however had darshan of our Sundarasimham SriLakshmiNrisimha. The priest Sri Yogacharya told the sthalapuranam in a devoted voice with eyes closed but it was all in Telugu. We got the translation while we had our lunch on the temple courtyard in front of our Bhadran with the Krishna flowing serenely in front of us. The meal of Vathal kuzhambu sadam and curd rice with avvakai was delicious to say the least. After the meal we get to hear the sthala puranam:
There was a cowherd (Yadava) who dreamt of Narasimha telling him that He resided at that spot, the boy did not take heed about this dream till the Lord actually touched the boy and asked to give this message to the king Kethaverma who dug up this place to find his feet cut by a stone which turned out to be a diamond. When the workers dug further the utsava murthies were found as also more diamonds. So this kshetram is called Vajralaya.
At this point the two cars separated. We had to get back to Matapalli while the other group left for Guntur. We stopped on the way to buy bananas for perumal and the cows of the goshala. The journey back was long and scary. The driver lost his way but not his cool. We got to see lights and habitation only in bits. At one point some kind of celebration was on. It was raining and there were only thorny bushes on both sides. We began chanting acharya thaniyan and did not stop till we reached the guest house at 8.00 pm. Sathumurai was on and there was a busload of people inside. We made our offering of bananas to the lord which were distributed to everyone present. Prasadam was lemon rice, groundnut sundal and sweet pongal. Dinner was dosai and thayirsadam.  It was with a feeling of gratitude that we went to sleep.
Next morning we had hot water supplied by the guesthouse and left to attend Thirumanjanam at the Matapalli temple. We went a little early in order to buy tickets for the Thirumanjanam. Rs.200 is the amount to be paid and allows two devotees. That day we four were only present. We took our offerings of flowers, dried fruits, camphor, snana powder etc. Daily milk for the Thirumanjanam as also other samagri is offered daily from Mukkur swami's guest house. That day was the Thirunakshatram of the present HH 46th Azhagiyasingar. We remembered HH and prayed to Narasimha for acharyan. The experience was great and Matapallinathan's Thirumukham reminded adiyen of my acharyan Mukkur Srimad Azagiyasingar. What caught our attention was a small prominent thiruman kaapu. It took us some time to understand that Thiruman was on the forehead of Prahladhazhwan. After taking Theertham and shattari we went to Swami's guesthouse, attended morning puja , enjoyed feeding bananas to the cows in the go-shala, took part in the morning puja, had prasadam of pongal and kesari, went to Matapalli temple for sevakalam and had curd rice prasadam. Returned to the guest house, rested, had lunch – rice, keeraisambar, sathumadhu, brinjal karamadhu, appalam, vadai, tirukannamadhu (as it was Srimad azhagiasingar Tirunakshatram) and buttermilk.
In the afternoon, we went with Jani as our guide to visit Bhardvaja caves.This involved rock climbing and the mud around was wet and thorny foliage was all around but there was a feeling of satisfaction on reaching the cave, Jani showed Nrisimha's kreedam, and other features on the stone wall. In another cave we were shown Kamadhenu's teats pouring milk on a seven headed serpent below. All these were natural formations and Bharadvaja is believed to live there and offer prayers to Matapalli Narasimha everyday by this tunnel route. The way back was easier and we reached the guest house to have coffee.
It being Friday there was a purappadu for Andal in the evening. She was taken in a brass doli down to the banks of Krishna river where puja was performed to Krishnaveni. Offerings were made and the procession came up the stairs to the temple.
This experience with the bhakthas who reminded one of the gopa-gopis of Brindavanam was wonderful. We took theertham-shatari and came back to the guest house, attended evening puja, took sakarai pongal. pulihore and sundal prasadams, had dinner – rice, dal, sathamadhu and buttermilk. After making our offerings to the dedicated  team who worked in the guest house and offering our donations, we took leave of Smt Vaidehi and Sri Badri and others we took leave  loaded with food for the train – chapathi-menthiyakeerachutney, pulihore and curd rice.We felt reluctant to leave the place like the citizens of Ayodhya who wanted to stay forever in Bharadvaja muni's ashram. We took leave of Kishore the young calm efficient navigator at Vijayavada station. We took the Rameshwaram express at 2.30 am and reached Srirangam on 13th at about 6.00 pm.
Some of the pictures from Vedapalli, Kethavaram and  Matapalli Temples: