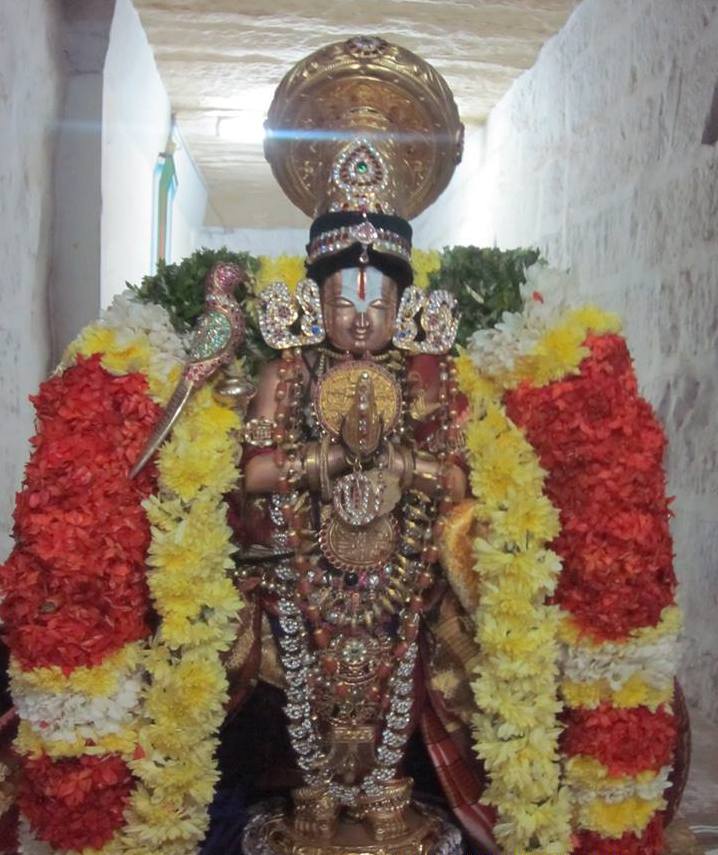 Thirupaanazhwar took avatharam at Woraiyur,  in the Tamil month of Karthigai under the constellation Rohini. He was an amsam of SriVatsam the mole of Sriman Narayana. It is said that a couple belonging to the Paanar community brought Him up. Paanars are a community of musicians who played the Yaazh a stringed instrument like the lute. True to His upbringing Thirupaanazhwar used to produce beautiful notes on the Paan sitting on the banks of the Kaveri and often went into a trance. One morning He got into such a state and failed to notice Lokasaranga muni the temple priest who had come to fill water from the Kaveri. He did not respond to the priest's call so he threw a stone at Thirupaanazhwar who got hit on the forehead. Tiruppanazhwar apologized for not paying attention and went home sadly with his bleeding forehead.
Lokasaranga on reaching the temple was shocked to see blood oozing out of Perumal's forehead. Perumal commanded Lokasarangamuni to bring Thirupaanazhwar on his shoulders to the sanctum sanctorum as atonement for his sin in hurting Thirupaanazhwar. Tirupaanazhwar who had never entered the temple premises could not think of entering the temple leave alone sitting of Lokasarangamuni swami's shoulder.
But Perumal's commandment had to be obeyed.  So Thirupaanazhwar got to have darshan of SriRanganatha reclining on Sesha. His eyes fell on those Feet and Thirupaan went on to describe the Divine Feet. Then He moved upwards till the head. As the ten verses were completed Thirupaan got merged with Ranganathaswami.
The 10 verses of Amalanadhipiraan  are pictures of beauty and the declaration that the eyes that have seen Rangan will see none other says it All. Swami Desikan had great respect for this Azhwar and composed SriBhaghavadhyana Sopanam in Sanskrit on similar lines. Swami Desikan also wrote a commentary in Manipravalam (Sanskrit interspersed with Tamil) for the ten verses of Amalanadhipiran called Munivahanabhogam. The Prabhandha Saaram verse on Tirupaanazhwar captures the whole story effectively. Let us learn these Ten Verses and chant them while having darshanam of Perumal.
Write-up by Smt Vyjayanthi Rajan