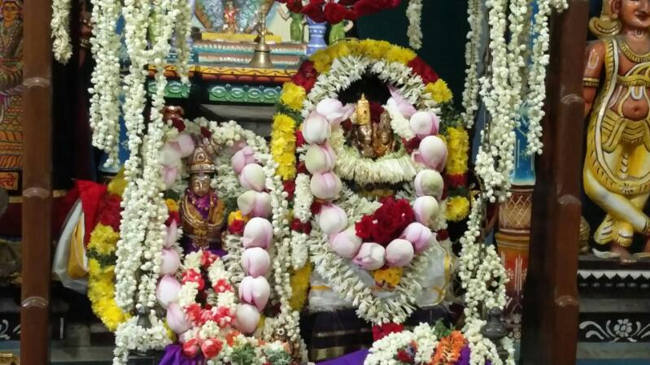 Seva Swamy's 94ththirunakshatrauthsavam was celebrated in a befitting manner at Mani Mandapam, Villivakkam, Chennai. A week long long uthsavam was a grand affair with viseshaaradhanam, veda, prabhanda, sahasranamaarchanai, upanyasams, sattrumurai, honouring of scholars, vahanapurppadu and so on.
Seva Swamy'sthirunakshatrauthsavam had started with Veda, Prabhandaparayanam on Sri Rama Navami Day (Apr 5, 2017). Prasadams were prepared and distributed to sevarthis who turned in large numbers every day.
There were special occasions during uthsavam days. On Apr 5, 2017Sri Rama Navami was celebrated in a grand manner. During April 6-8, 2017, Veda Prabhandaparayanam were performed during both morning and evening with viseshaaradhanams.
On the day of PanguniUthram (April 9, 2017), Thirumanjam was performed in the afternoon for deities / acharyas. With chanting of Taitareeyaupanishad and Purushasuktham, the session was adding colour to the already divine atmosphere. The sahasranamaarchanai was performed for Sri Lakshmi Hayagrivan and Sri Ananda Lakshmi Thayar. The archanaiwas done with lotus flowers and chanting of sahasranamavali.
On April 10, 2017, besides regular programmes, competition was conducted for young ones who learn stotras at mani mandapam regularly. They were categorized as Juniors and Seniors and the competition was conducted on Swami Desika'sAbheethistavam. They were asked to recite a slokaon Abheethistavamand give meaning for the same. Their performance was commendable and enthralled the audience who turned in large numbers. Certificates were given to winners and participation certificates were given to all.
The thirunakshatram day (April 11, 2017) witnessed grand celebrations. In the morning, after Veda PrabhandaParayanapoorthi, anugrahabhashanam was delivered by Sri U.Ve. PaiyambadiVenkatavaradachariar Swami. Swami spoke at length on Seva Swamy's unique contribution to DesikaSampradaya. He recollected Sri Seva Swamy's selfless contribution during Swami Desikan's 7th centenary during late 60sand his great service in spearheading DesikaSampradaya for more than 50 years.
During thirunakshatrauthsavam, a book containing Sri Lakshmi HayavadanaSuprabhatham, Sri DamodaraSuprabhatham and Sri Lakshmi HayavadanaMangalam written by Sri Seva Swamy was released. Sattrumurai was performed and theerthaprasadams were distributed. Suitable Sambhavanai to Veda, Prabhanda, kainkaryagoshti was given during sattrumurai.DivyaPrabhandaParayanaSwamins were honoured with a certificate titled "PrabhandaSevaDhuranthara" on the occasion.Thadhiyaradhanam was conducted at Swami thirumaaligai after conclusion of uthsavam in the morning.
With huge demand from sevarthis, Swami Desikanpurappadu was conducted on Seva Swami's thirunakshatram day in the evening for the first time. The grand celebrations concluded with sattrumurai. The uthsavam concluded with theerthaprasadams to devotees.
Some of the photos taken during the occasion are as follows…
Courtesy: Sri Gandamani Swamy