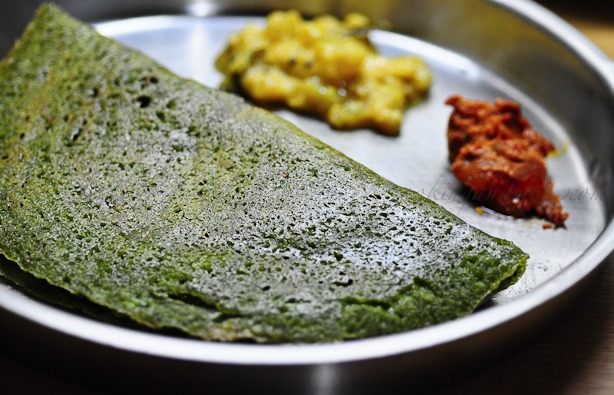 Have you tried Keerai adai (spinach adai)? Its a crispy thick dosa with a lot of lentils. The best part is this recipe is no fermenting required. You could use spinach (Keerai) or Fenugreek leaves (Methi leaves) too.
Boiled rice ¾ cup
Raw rice 3/4 cup
Urdh dhal ¼ cup
Bengal gram ½ cup
Tovar dhal ¼ cup
Moong dhal ¼ cup
Cumin seed ¼ tsp.
Red chillies 10 no
Ginger grated 2 tbsp
Curry leaves 2 stem
Hing ½ tsp
Salt as required
Finely chopped spinach 1 ½ cup
Finely shredded carrot 3 tbsp ( Optional)
Finely chopped cilantro 1 tbsp.
Oil as required
Soak rice and dals together for 5 hours. Soak red chilies separately.
Drain it and grind it with ginger, red chilies, curry leaves, Hing, cumin seed and salt together.
Grind it slightly coarsely. No need to ferment the batter.
To the batter, add finely chopped spinach leaves, and shredded carrots (optional)
Mix everything well and the batter is ready to use
Heat the griddle and pour 2 ladle of batter and spread in a circular motion.
Spread 2 tsp. of oil around the dosa and cook both sides.
Serve with sambhar , Chutney and Millaghai podi.
Thanks to: Sadhanas Kitchen
General guidelines for healthier food – Both body and mind:

One should be thinking about Perumal (Nama Smaranam) while cooking, and the purpose should be to offer the preparation to Him.
Once the food is prepared, it should be offered to Perumal first. While offering, one should make sure that the food is neither too hot nor cold. It should be offered with love and affection.
Please do not offer either pre-cooked food bought from outside or any pre-consumed food.
Please follow thiruvaradanam kramam as instructed by your respective acharya. (http://anudinam.org/2012/03/08/bhagavad-tiruvaradhanam/)
Follow ahara niyamam as much as possible. Atleast make sure that onion and garlic are not used at all.(http://anudinam.org/2012/06/11/srivaishnava-ahara-niyamam/)
Please ensure that food which are not prasadams are not consumed.