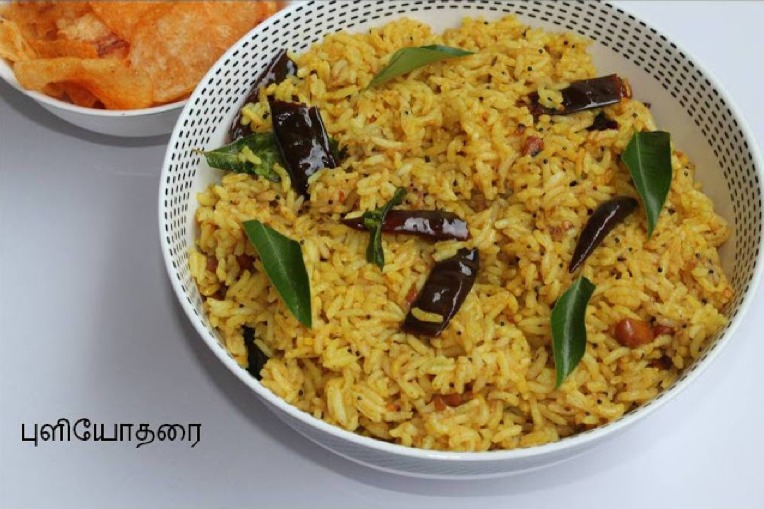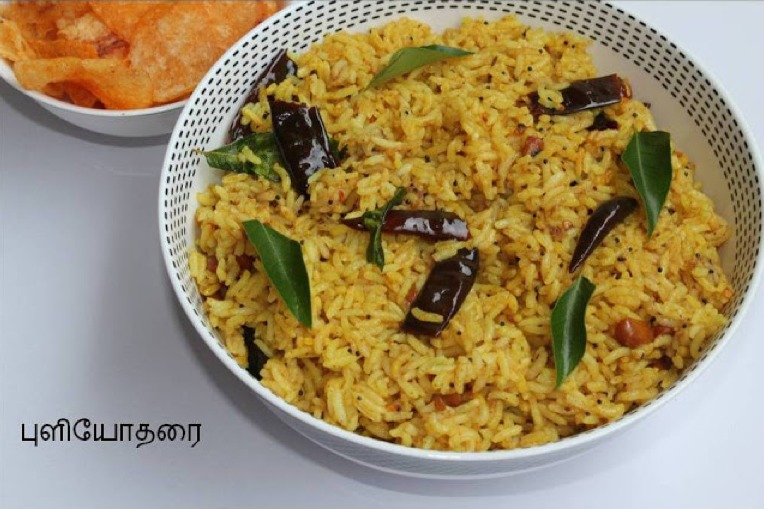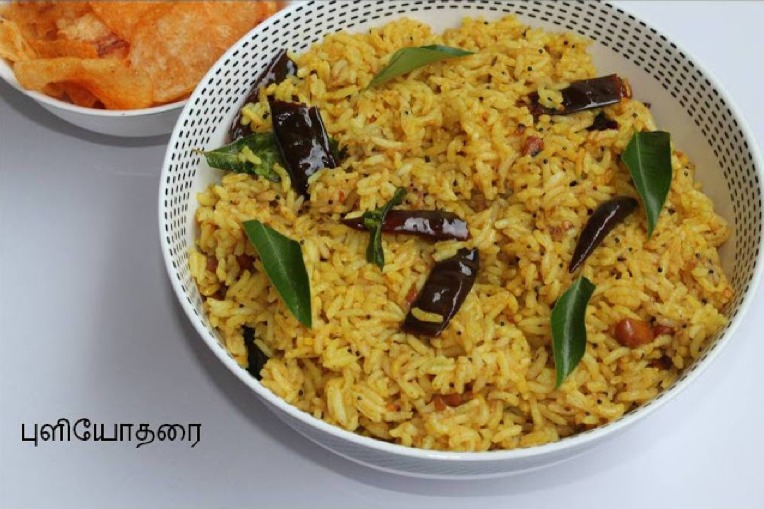 Puliyodarai
Ingredients:
Tamarind -a big ball the size of a big orange.soak and get thick extract
Salt-to taste
Turmeric powder-2 tsps
Asafoetida- a big pinch or 3 tsps of powder
Sesame oil-2 tsps.
Mustard-2 tsps
Red chillies-10-12
Dry roast a tablespoon of dhania and 1/4 tsp of fenugreek seeds and powder.
Method:
Take a frying pan and pour in the oil. Allow the mustard to splatter add cillies and let them become black.
Pour in the tamarind extract, add turmeric and salt and allow in to boil till a really thick pulikachal is got.
Prepare rice such that it is separate and allow to cool. Add salt, pulikachal. powdered fenugreek and dhania.
Take sesame oil in frying pan and splatter mustard seeds, fry channa dal, urad dal. groundnuts, cashew  nuts and curry leaves.
Pour on the rice and mix well.When prepared in this method the pulihore tastes fresh since the seasoning is always fresh.

Kanu Kuzhambu
This is a dish prepared in Tirunelveli.
Ingredients:
Vegetables – pumpkin, beans, broad beans, sweet potatoes, yam, peas, brinjals, etc, finely cut
Sesame seeds-2 tsps,
raw rice-2 tsps
channa dal-2 tsps
urad dal-2 tsp
grated coconut-2 tsps
dhania seeds-2 tsps
Method:
Take vegetables like pumpkin, beans, broad beans, sweet potatoes, yam, peas, brinjals etc and cut into bite size pieces.
Cook in tamarind water after adding turmeric and salt.
The remaining ingredients are to be fried in oil and ground in blender.
Add this to the cooked vegetables and garnish with fried mustard and curry-leaves.
Recipe by Smt Vyjayanthi Sundararajan and Photos by Smt Uma
General guidelines for healthier food – Both body and mind:
One should be thinking about Perumal (Nama Smaranam) while cooking, and the purpose should be to offer the preparation to Him.
Once the food is prepared, it should be offered to Perumal first. While offering, one should make sure that the food is neither too hot nor cold. It should be offered with love and affection.
Please do not offer either pre-cooked food bought from outside or any pre-consumed food.
Please follow thiruvaradanam kramam as instructed by your respective acharya. (http://anudinam.org/2012/03/08/bhagavad-tiruvaradhanam/)
Follow ahara niyamam as much as possible. Atleast make sure that onion and garlic are not used at all.(http://anudinam.org/2012/06/11/srivaishnava-ahara-niyamam/)
Please ensure that food which are not prasadams are not consumed.