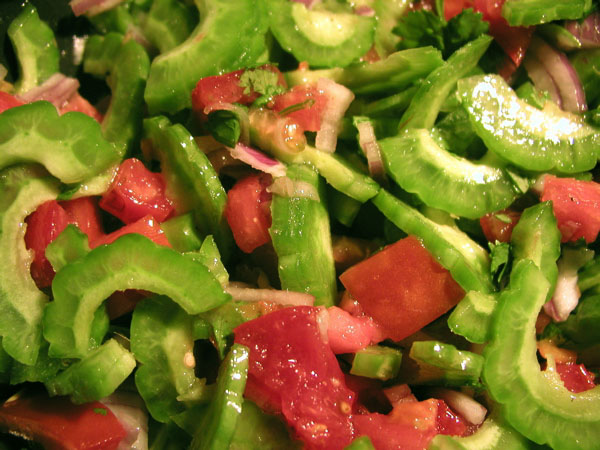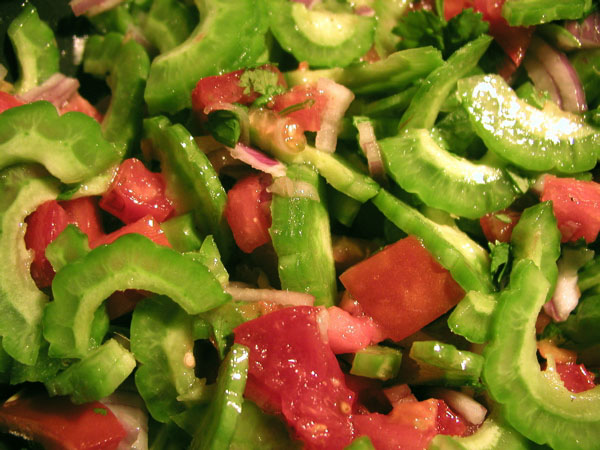 This preparation removes the bitterness of the bitter gourd and you will start like to eat bitter gourd very often. Good for diabetic patients. I bet you would surely like this if you are a fan of bitter gourd.
Bitter gourd – 4 no (Cut into half round pieces and de-seed)
Sweet peppers – 2 no
Tomato – 2 no (Cut into small pieces)
Turmeric Powder – ¼ tsp
Chili Powder – 1 tsp
Salt to taste
Boiled water mix with ½ tsp chili powder, ½ tsp salt.
Ghee – 1tbsp
Jeera -1/2 tsp
Hing – a pinch
Put the cut bitter gourd pieces in boiled water mixed with spices and keep it covered for 5 Minutes.
Drain the water after 5 minutes.This will remove the unwanted bitterness a little.
 Heat ghee in a pan; add all seasonings, when Jeera starts  spluttering add sweet peppers and tomato pieces.
Fry for few minutes. Then add the bitter gourd pieces in it. Fry it in a low heat.
Now add the chili powder, turmeric powder, salt into it. Mix it well.
Lower the flame and let it shallow fry the bitter gourd pieces till golden brown.
Serve hot with rice and Sambhar.
Ghee reduces the bitter taste of it little.
Thanks to : Sadana's Kitchen
General guidelines for healthier food – Both body and mind:
One should be thinking about Perumal (Nama Smaranam) while cooking, and the purpose should be to offer the preparation to Him.
Once the food is prepared, it should be offered to Perumal first. While offering, one should make sure that the food is neither too hot nor cold. It should be offered with love and affection.
Please do not offer either pre-cooked food bought from outside or any pre-consumed food.
Please follow thiruvaradanam kramam as instructed by your respective acharya. (http://anudinam.org/2012/03/08/bhagavad-tiruvaradhanam/)
Follow ahara niyamam as much as possible. Atleast make sure that onion and garlic are not used at all.(http://anudinam.org/2012/06/11/srivaishnava-ahara-niyamam/)
Please ensure that food which are not prasadams are not consumed.