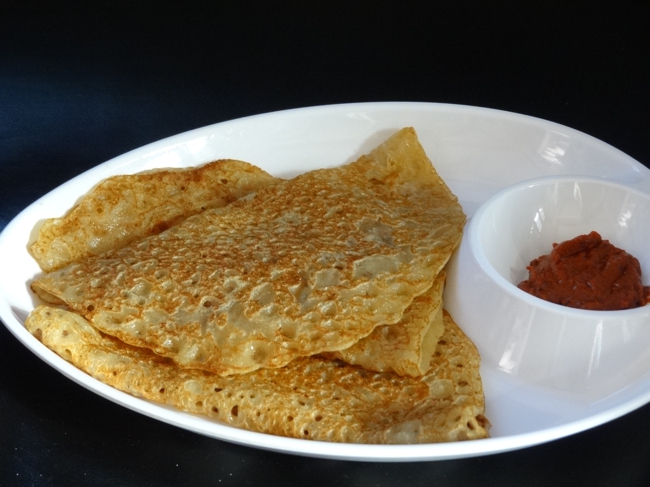 Ingredients
Wheat Flour – 2 Cups
Water – 4 Cups
Jeera – 1/2 tsp
Red Chilli – 2
Salt – as needed
Mustard – 1/4 tsp
Asafoetida – a pinch
Oil – as needed
Curry Leaves – few
Method
In a vessel add the wheat flour. Add jeera and chop the curry leaves and add it.
In a small pan, add a tsp of oil and add the mustard seeds,asafoetida and red chillies.when it splutters put off the flame an add it to the wheat flour.
Add water to this slowly and mix without any lumps. the batter should be bit thinner than the regular dosa batter.
Always ensure that the batter is thin, else the dosa will be thick like adai.
Heat a tawa.  Pour the batter in a circular motion and smear some oil around it.
Flip on the other side and cook till it becomes crispy.
Now Wheat Dosa is ready to serve hot.
General guidelines for healthier food – Both body and mind:
One should be thinking about Perumal (Nama Smaranam) while cooking, and the purpose should be to offer the preparation to Him.
Once the food is prepared, it should be offered to Perumal first. While offering, one should make sure that the food is neither too hot nor cold. It should be offered with love and affection.
Please do not offer either pre-cooked food bought from outside or any pre-consumed food.
Please follow thiruvaradanam kramam as instructed by your respective acharya. (http://anudinam.org/2012/03/08/bhagavad-tiruvaradhanam/)
Follow ahara niyamam as much as possible. Atleast make sure that onion and garlic are not used at all.(http://anudinam.org/2012/06/11/srivaishnava-ahara-niyamam/)
Please ensure that food which are not prasadams are not consumed.